Even with 90º temps today I felt the need to take a step closer to the possibility of taking a Deer with my Crossbow, shooting the Crossbow is far more physical than shooting a rifle so it didn't take long for me to get my fill in these temperatures. The Wife sitting in her easy chair with the Polor Pac on her knee found it humorous to watch me sweating on on the deck.  🙁  I saw little humor in it but soldiered on.
My Son had cut me a shooting lane into the wood behind our house and from the edge of our deck to a large oak is 23 yards, with a target set in front of it and me backing up near the house I've got a solid 25 yards. For a beginning Crossbow shooter this is a pretty decent distance to practice for now. I shot three arrows at the two bulls at the top on the Shoot N See target to see how the zero was holding up. The first was about four inches low but the next two were satisfactory, in fact I thought pretty good.
I then slowly and deliberately shot three more arrows, resting and catching my breath (remember I've got significant COPD issues) and I was well pleased.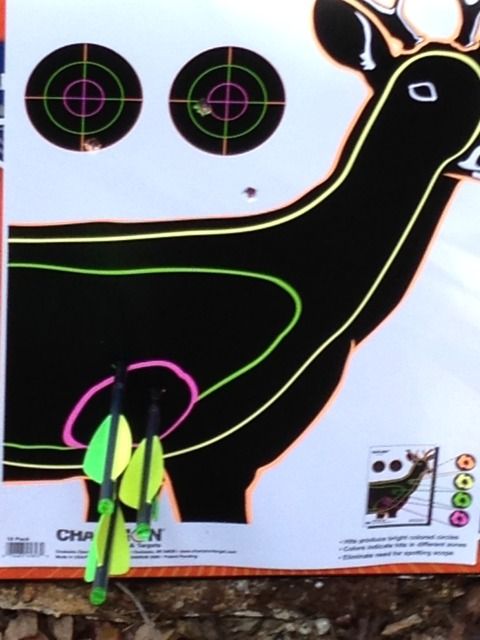 Close up of the last three shots, I'm not claiming to be ready to go but I did find this pretty encouraging.
Now if I could get some cooler weather to practice in I'd be a happy camper.